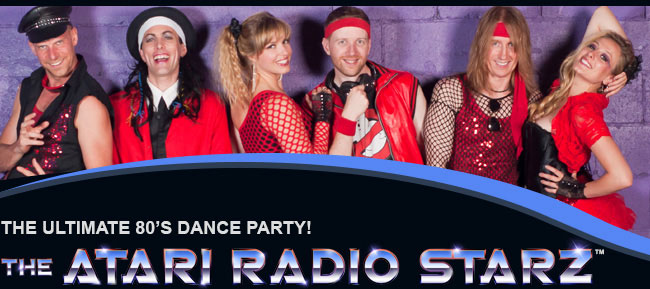 The ATARI RADIO STARZ is an ALL 80's dance party, featuring monster hits from Madonna, Duran Duran, Eurythmics, The Go-Go's, Whitney Houston, Cyndi Lauper, Michael Jackson, Bananarama, Def Leppard, Culture Club, Van Halen, Pat Benatar, Whitesnake and so many more! This stage show comes complete with authentic 80's costumes, choreography and features some of the industry's best singers, dancers and musicians! The ATARI RADIO STARZ is a high-energy, interactive show that is perfect for Corporate functions, Festivals, Casino Show rooms and any event where you want to create a super fun, entertaining and memorable experience for your guests!
Videos
Images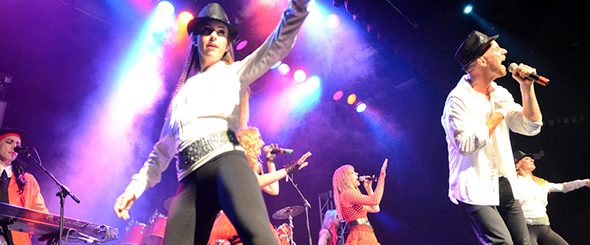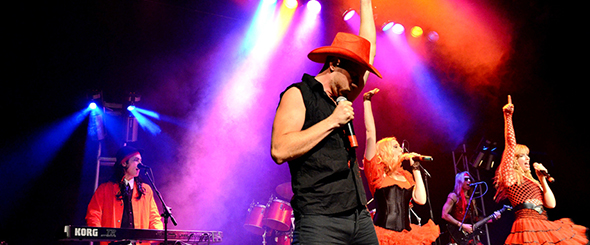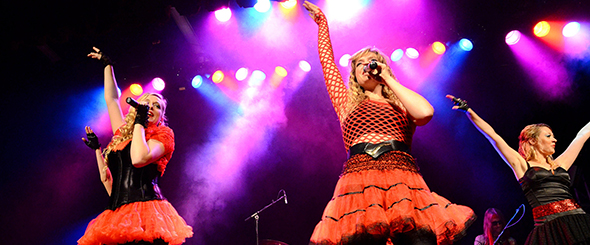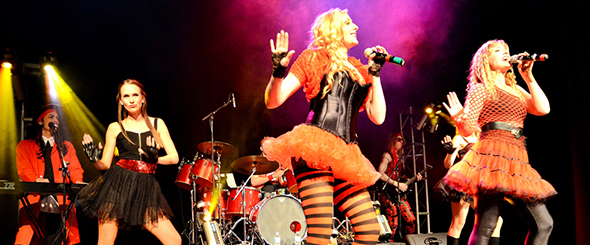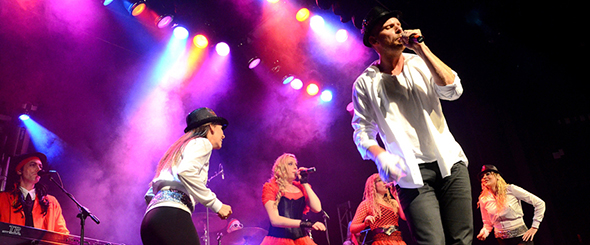 Song list
99 Red Balloons
A Little Respect
Billy Jean
Call Me
Centerfold
Don't Stop Believing
Don't you want Me
Eye Of The Tiger
Faith
Funky Town
Ghostbusters
Girls Just Wanna Have Fun
Heart Of Glass
Here I Go Again
Hit Me With Your Best Shot
Holiday
How Will I Know
Hungry Like The Wolf
I love ROCKnROLL
I Wanna Dance With Somebody
Jessie's Girl
Jump
Karma Chameleon
Like A Virgin
Living On A Prayer
Locomotion
Mickey
Material Girl
Never Gonna Give You Up
Pour Some Sugar
Rock With You
Sister Christian
Straight Up
Sweet Dreams
Tainted Love
Take On Me
Thriller
Venus
Wake Me Up Before You Go Go
Walking On Sunshine
Walk Like An Egyptian
We Built This City
We Got The Beat
We're Not Gonna Take it
We Will Rock You
You Give Love A Bad Name
You Spin Me Right Round
Reviews
That was over the top amazing! The ATARI RADIO STARZ blew everyone away! It was absolutely outstanding! I had the time of my life!
Christine Awram (Founder – Women of Worth Conference – Vancouver, BC)
Great Show! Best concert we've had to date
Dixon Kenny (Lion's Club / Concert On The Green Organizer – Gabriola Island, BC)
I LOVED the show! It was so much fun! I grew up in the 80's and I was totally transported back to when I was young…and when they did Rick Springfield I thought I was going to die! It was amazing! I could not even deal with it! It was such a great show and I would recommend it to anyone who wants to go back to the 80's and have an amazing time! It was totally awesome!
Alyssa Nielsen (Professional Entertainer – Langley, BC)
The ATARI RADIO STARZ were fantastic! They rocked! The show was cool, hip & energetic! The transitions, choreography and dancing were fabulous and they played all of the best hits from the 80's!
Rhonda Miller (Audience member at the Cascades Casino – Langley, BC)
We just wanted to say that we loved the show! All of the 80's hits they played made us feel like we were teenagers again! Thanks for a great show and see you next time!
Linda Reynolds (Audience member at the Cascades Casino – Langley, BC)
The ATARI RADIO STARZ were freaking awesome! They grabbed the crowd and stayed with them until the end. They were incredible!
David Samuels – Abbotsford, BC
Technical Requirements